20 hrs 40 mins…a day in the life of a painter
My day started at 5.20am on Saturday and I "hit the hay" 20 hours and 40 minutes later around 2.00am on Sunday.
Saturday 16th November 2019 was the day of Wishbone Ash's convention, "AshCon" in this the year of the band's 50th anniversary. Andy Powell and AshCon organiser Guy Roberts had kindly given their blessing for me to exhibit again at AshCon. I had exhibited previously at AshCon 2016 and AshCon 2017 but was unable to do so at AshCon 2018 because I had already paid my deposit to exhibit at the 2018 Manchester Art Fair. I was sorely disappointed but couldn't afford to lose the deposit and I vowed to avoid any date clashes come 2019.
Well, what a day! I am unable to comprehensively articulate what an experience AshCon 2019 proved to be. I am also unable to name all the people who contributed to the event being such a phenomenally uplifting celebration of 50 years of Wishbone Ash. Nonetheless, one person should be highlighted; Andy Powell, founding member and the only member of the band to have carried the name of Wishbone Ash for its entire life. If you want to know more, read his book, "Eyes Wide Open".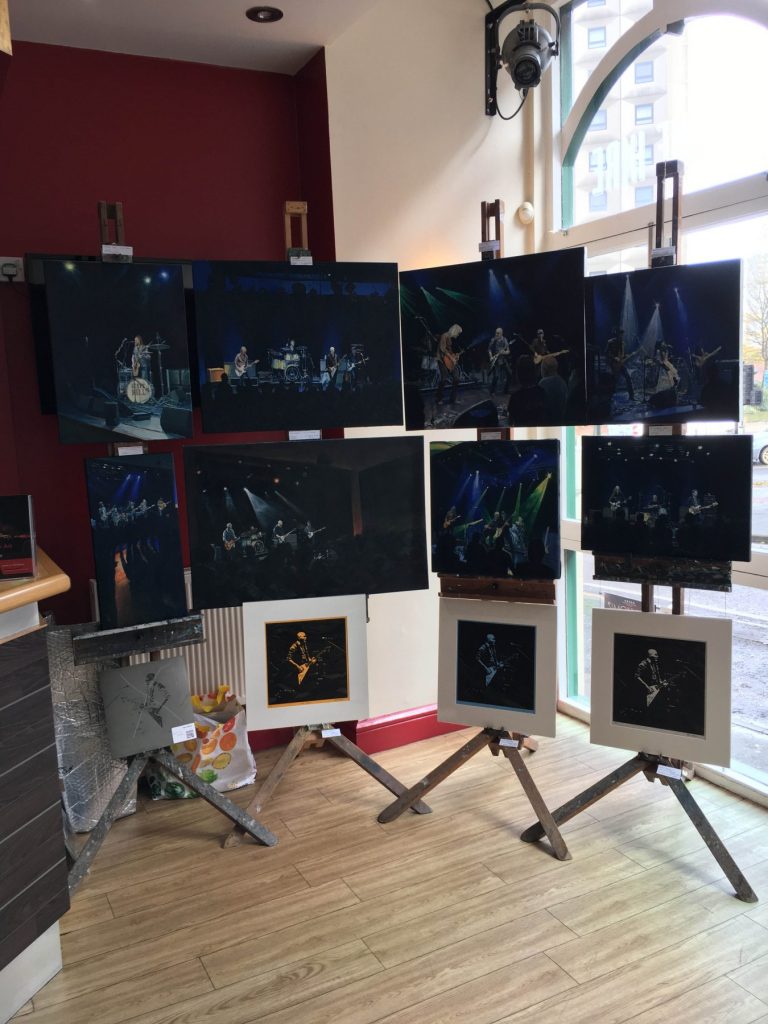 My exhibition at AshCon 2019 in The "Y" Theatre, Leicester, featured paintings and original lino-cuts inspired by Wishbone Ash and the performances by support bands at recent Wishbone Ash gigs.
Top row (left to right) Steve Hill, Wishbone Ash, Wishbone Ash and Doris Brendel
Middle row (left to right) Xander And The Peace Pirates, Wishbone Ash, Wishbone Ash and Pat McManus
Bottom row (left to right) The plate for the lino cut inspired by Andy Powell, Andy Powell on buttercup yellow poster paper, Andy Powell on light blue poster paper and Andy Powell on Sunome Senaka (Japanese paper).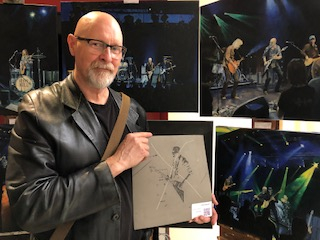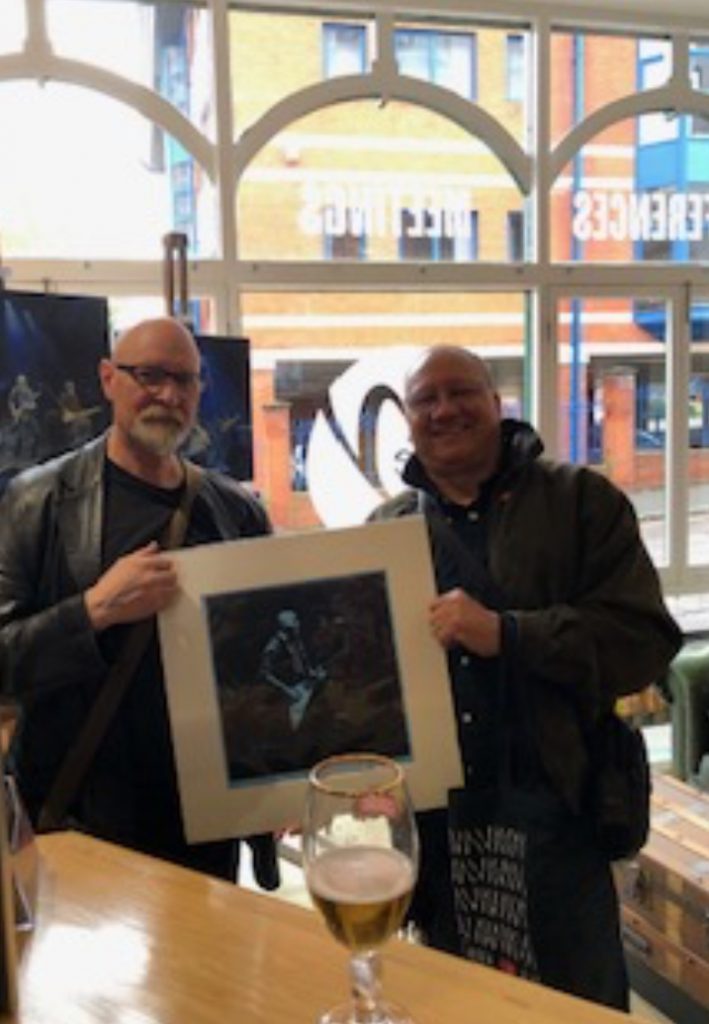 Photos (left to right) courtesy of Claudia Abrams and Mike Sneed.
My all day pass. During my time working on the crew at Manchester Apollo in the mid 1980's I had many "Back-stage passes" but this one has special significance for me. The response to my artwork was humbling for I had not realised that so many people had "seen" it on various forms of social media. I received hugely encouraging comments and also sales. Could the day get any better? It could and it did as Wishbone Ash provided an electro-acoustic set in the the afternoon and then a performance over two sets in the evening. During the evening sessions I had only the briefest sense of nostalgia which was soon drowned by the power and emotionally charged performance by the current band, Joe Crabtree, Bob Skeat, Mark Abrahams and Andy Powell.  In between songs, Andy had talked about making memories and I just might try to help keep this memory alive by producing more Wishbone Ash inspired artwork.
From the moment I put them on until the moment I took them off these 10 day old (new?) Doc Martens (1460 Mono boots) had been on my feet for over 20 hours continuously! Of course I had taken the precaution of having a spare set of footwear to change into in case the new Docs started to misbehave but the spare shoes were neither needed nor wanted. My feet, knees, hips and back thanked me for my choice…these Docs are made for Rock'n'roll..and art!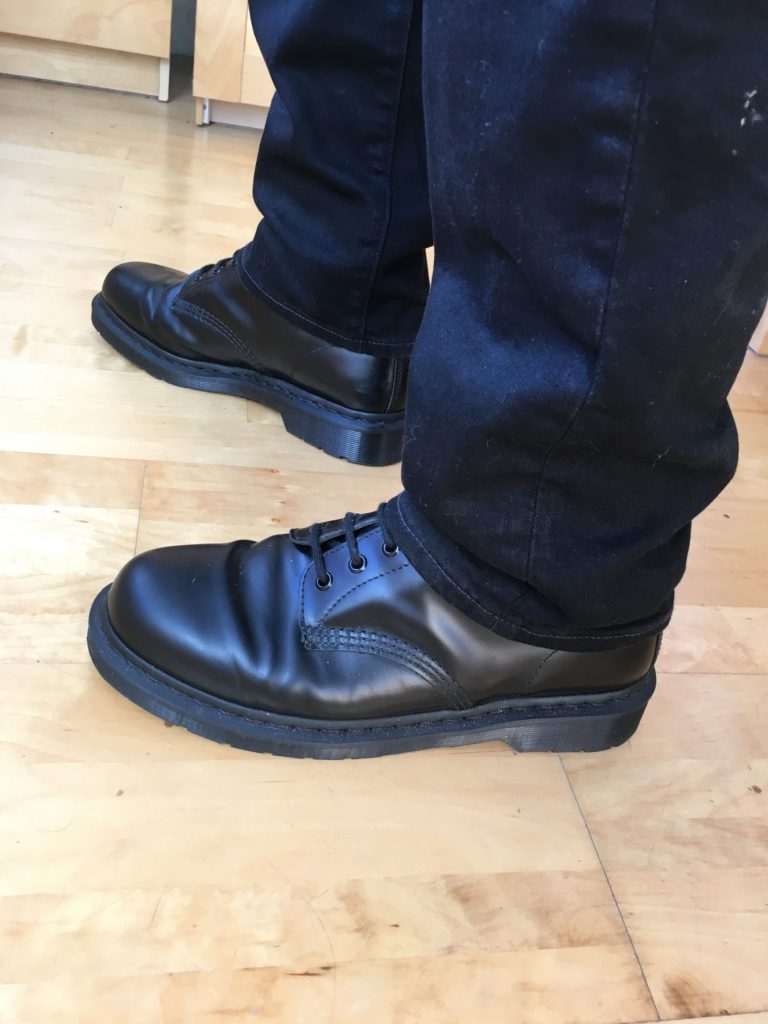 The car had been loaded with my paintings, printmaking and easels in between the afternoon and evening sessions enabling me to head home immediately after the encore. Choice of music for the journey home? Two and a half hours of Wishbone Ash, of course! A perfect end to a perfect day.