Art Exhibition from Fusion
27th November 2017…update: The exhibition at FaMAS (Falcon Mill Artists Studios) was a great success with a well attended Preview evening and live music provided by Dennis Dodds from Bandersnatch http://www.bandersnatch.org.uk/. Dennis stepped in at the eleventh hour so we are all indebted to Dennis for providing such a varied set at such short notice. Brilliant!
The exhibition really was a marvellous way to celebrate the work of the Fusion adult art class. Please see below photographs from the opening night and the work from the artists: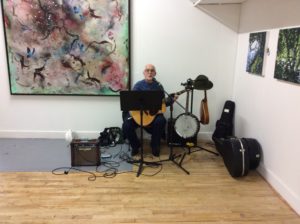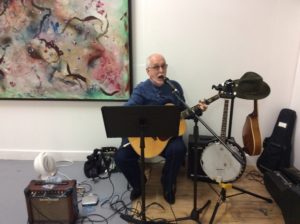 Dennis Dodds from Bandersnatch…who was also exhibiting in the show!
Name tags identified the artists work…
The exhibition also included relief prints created during a Printmaking Workshop at FaMAS involving members of the class and their grandchildren. The skills developed from the workshop were taken to a local Primary School…see below for details:
The Visitors Book shows something of the exhibition's impact…
A huge, huge, HUGE thanks to all who attended over the weekend. Special thanks to the artists for working so hard and for the spirit in which they have developed, honed and refined their skills. WELL DONE!
23rd October 2017 I am really delighted to announce that there will be an exhibition of painting, printmaking and drawing from "Fusion Art Experience" at FaMAS in November.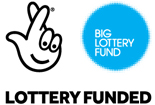 The art class that takes place on Thursday mornings 10am-12noon has produced some fantastic work over the last eleven months. All the artists are non-professional and some had not painted since leaving school many years ago. Everyone is welcome to the Preview evening on Friday 17th November and to the exhibition on Sunday 19th November. Huge thanks to Big Lottery Fund for making this possible.
The funding has allowed us to:
(i) provide art lessons to adults at Fusion Community Hub each Thursday morning
(ii) a printmaking workshop at Moorgate Primary School
(iii) an exhibition of painting, printmaking and drawing produced at Fusion Art Experience
Do come along to see the talent that is thriving in Bolton!