Queen's beach
Over the last couple of weeks I have been working on three studio paintings inspired by my week long landscape painting visit to Loch Sween near Knapdale in Scotland.
During the visit I found some wonderful locations to draw and paint but there was one place which I knew would make a great subject for a studio painting. I drove along the road that hugs the shores of Loch Sween, passing Castle Sween and driving to the end of the road at Balimore. From here I walked over a badly rutted track around Cnoc Moine to discover a beautiful and secluded beach at Muileann Eiteag Bagh. The farmer from whom we rented the cottage later informed me that the beach is known locally as "Queen's Beach" because Queen Elizabeth and Prince Philip once anchored just off it.
I had been told of the beauty of this little bay by a local man whom I met following an en plein air painting session a day or two before. He advised me to follow the track over the peninsula and down to a derelict mill. He warned me that the track would be very muddy. What he did not warn me about was the deep ruts in the track caused by the heavy footprints of red deer. Parts of the track were baked hard by the crisp winds and the strong springtime sunshine….this track was a potential ankle breaker! Sections of the track were impassable due to being water-logged so we had to traverse the boggy morass either side of it on a number of occasions…thank goodness for Goretex boots! We found the derelict mill and walked on to discover a stream that emptied into a sea loch. As soon as I saw the stream (called Abhainn Mhor) I felt there was something magical about how it meandered through the trees towards the sea (Loch Caolisport).
I have spent all day today at my studio putting in another session on this painting. It is still unfinished and needs more work but here's a photograph of it at my studio…..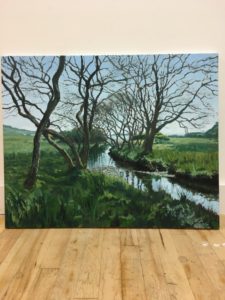 I have not yet decided on a title for this painting…..so if anyone has any suggestions…