At The Ritz
Earlier today I finally finished an oil on canvas that I have been working and re-working over the last few weeks. Laurence Jones was support to Kenny Wayne Shepherd in 2017 and both bands produced fantastic sets that had The Ritz rocking. The Kenny Wayne Shepherd canvas is progressing but remains unfinished. I really like The Ritz, Manchester, as a music venue. On the night that these two bands performed I arranged with Laurence to sketch during the sound-check. Following on from sketching both bands I met with Russell from The Ritz who graciously allowed me to work on the balcony during the gig. This provided me with a great view of the audience together with the stage. Earlier this year I produced a limited edition dry-point inspired by Laurence Jones…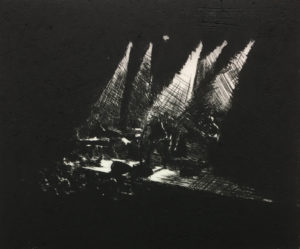 "Blues At The Ritz"
The dry-point measures just 12cm x 10cm and seemed the appropriate size for a small limited edition of prints. The image was scratched onto a "plate" using an engineer's scriber. I much prefer engineer's scribers to printmaker's dry-points for this sort of work. Working with cross-hatching onto an acrylic or polycarbonate plate I built up areas of dark tone. The final edition was inked and printed onto Fabriano paper. I had decided, however, that the painting would need to be much bigger and I ordered a canvas 76cm x 61cm for the Laurence Jones oil….it was to take a lot longer to produce but it is finished at last….and here it is: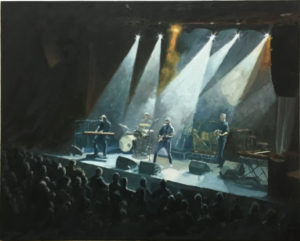 "Laurence Jones At The Ritz"
Here are a couple of close-up details from the painting: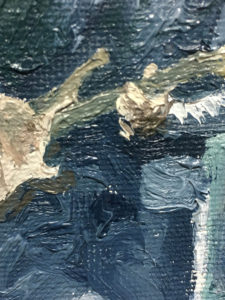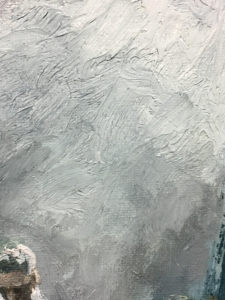 These two details show some of the techniques used which includes impasto, alla prima, scumbling and glazing with paint applied with brushes, palette knives, fingers, cocktail sticks, the point of a sharp pencil, card and rags.