John Fairhurst
During my "Artist-in-Residence" the penultimate band on stage at The Muni on the final night of The Great British Rhythm & Blues Festival 2017 was John Fairhurst. I had only seen this band on Youtube so I was really looking forward to seeing them live….and they did NOT disappoint!
During the gig I sketched rapidly in my sketchbook using a Bic ball-point pen. See below:
One of these sketches was used to produce a series of larger trace mono-prints…see below for an example: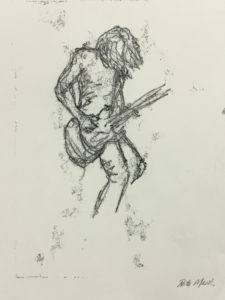 Eventually an oil on canvas was started and earlier today the painting was finished…here's the final painting….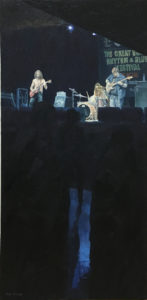 …and here's a close up detail.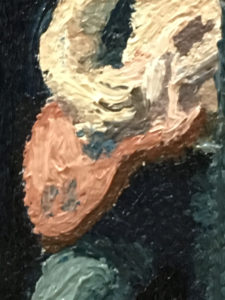 More details about this painting can be found at: https://petemarshart.co.uk/painting/john-fairhurst-tgbrbf17/