ZZ Top
18th October 2017. I've been working on this canvas for a little while but last week and this week has seen it begin to move in the right direction….it is NOT finished, it is just a "work in progress"..but here it is, oil on canvas inspired by ZZ Top at Manchester Apollo: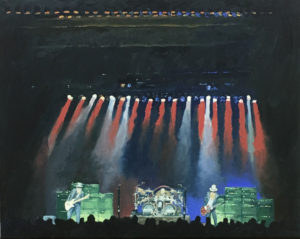 Update 23rd November 2017…
..I've reworked this painting…here are some close up details of this painting….
Depending on progress, I'll post again tomorrow….I'm hoping it'll be finished by then!
24th October 2017. The oil on canvas inspired by ZZ Top at Manchester Apollo is finished…I feel so lucky to have got a ticket for this gig. Somehow I missed ZZ Top when they played Manchester Arena a few years ago. Two friends who play guitar in Blues based bands saw them at the Arena and were enormously impressed with the band and particularly the tone that Billy Gibbons squeezed from his Les Paul. One of them bought a Les Paul on the strength of that gig! This time around another friend messaged me to ask if I'd bought a ticket for ZZ Top at Manchester Apollo…I had not! I ordered online and got one of the few remaining tickets. When I was queuing to get in on show night I overheard two guys discussing how they'd had to buy their tickets through expensive websites because they'd been unable to obtain tickets from the original source. Phew! I must have just made it in time! Supported by The Red Devils (and there is a painting from their performance) ZZ Top didn't disappoint. I've always liked the shape of the Gibson SG from seeing Angus Young many, many years ago at Reading Festival and more recently Tony Iommi during "The End" tour. I see that Samantha Fish has also been using an SG lately. Billy Gibbons's tone at the Apollo was nothing short of exquisite…and these guys just make it look so damned easy! I trust that I've done the gig justice… please see below: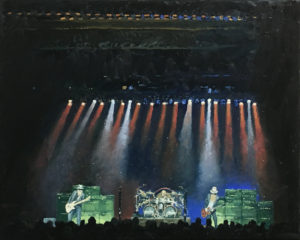 Available as an original (only the one!) or as a limited edition Giclee print.