Wishbone Ash AshCon 2017
What a day..and night! I have read many posts about the AshCon 2017 event and every one reports on what a fantastic afternoon and evening Guy Roberts organised for us. Wishbone Ash with new guitarist, Mark Abrahams produced the goods as usual to give everyone present a truly memorable evening.
Sadly for me there wasn't a chance to sketch Wishbone Ash at AshCon because I had to strip down my stand, load the car and park up…but there are plenty of sketches of Wishbone Ash on my website under Music, Drawings https://petemarshart.co.uk/category/music/drawing-music/ I have no sketches of the incredibly infectious Pat McManus for the same reasons….I'm going to have to address this in the future!
Here are all the AshCon 2017 pages from my sketchbook ….
The above "live-sketches" were done during the sound-check and the afternoon performance of multi-talented Canadian, Steve Hill. I thoroughly enjoyed his set, what a great Rock sound. He is impressive in that he plays so many instruments simultaneously, but for me it was his music that won me over…great performer! Steve's "Merch" stand was next to my stand and during a chat about his music Steve asked about my sketches. We came to a gentleman's agreement when Steve asked how he could obtain one of the sketches….we swapped CDs for the sketch…I'm so pleased to have Steve Hill in my music collection!
At last year's AshCon I missed sketching the acoustic set because I was unable to get away from my stand…this year I was determined to sketch Mike Day. My wife looked after the stand whilst I found a couple of vantage points to sketch Mike. I really enjoyed Mike's playing, he seems to have such a sensitive, delicate touch on guitar. My wife, Mel, who sings in a local band, sings in a community choir and sings at church, remarked was a "lovely voice" Mike has….but she would have liked to have been nearer….sorry Mel, that'll be my fault then!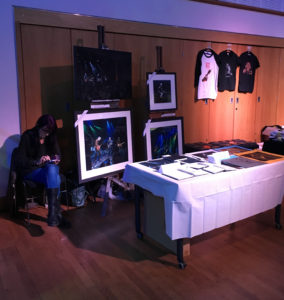 The pages of my sketchbook were further filled with sketches of freshly christened "Just Strange". Guy Roberts named them Just Strange literally seconds before they took to the stage. This band are true pioneers of the digital age! Few bands can claim that they have practised whilst miles apart from each other! Facetime practice sessions? Amazing! It was great to hear them playing some favourite Wishbone Ash numbers…here are the sketches:
Huge thanks to all at AshCon 2017 for the "family" atmosphere…what an uplifting experience (again). I would also like to thank Chris from The Grand Venue for his hospitality. The last time Chris helped me, it enabled me to produce a painting of Laurence Jones from an interesting vantage point….I'm hopeful that with Chris's help this weekend it will enable me to exhibit a new work inspired by the great Wishbone Ash at next year's AshCon.