Laurence Jones At The Muni
In August 2018 I was "Artist-in-Residence" at The Great British Rhythm & Blues Festival for the second year in succession. I produced 14 paintings from the 2017 festival and decided to produce a series of limited edition lino-cuts from the 2018 festival. Earlier this afternoon I printed the final two editions..one inspired by Xander And The Peace Pirates at The Pendle Hippodrome and the other by Laurence Jones at The Muni.
I bumped into Laurence and the band's bass guitarist Greg, at the stage door and in conversation, Greg assured me that I should see the band's new line-up which included two female vocalists. Having already done four oil paintings of the Laurence Jones band I had not planned to see them at Colne 2018 as I usually try to see acts that I have not seen before. Nonetheless, Greg convinced me and into the Muni I went! It did not take long before I felt that there had to be an artwork from the Laurence Jones set. There was a lot I wanted to include…the vocalists had really elegant hands with long, long nails and their posture just had to be captured. Added to this Laurence seemed in his usual energetic mood as he pulled "guitar-hero" shapes during his solos. When I finally studied my photographs and sketches from Colne 2018 I knew that there was a lino-cut from the band's performance.
The following bands who played at Colne 2018 have inspired lino-cuts, Slack Alice, Catfish, Connie Lush, Trevor Babajack Steger, Lisa Mann, Charlotte Marshall and The 45s, King King, Mike Vernon And The Mighty Combo, Xander And The Peace Pirates and finally….Laurence Jones. There was no logic to the order in which I produced these lino-cuts and the last one just happened to be Laurence.
Above can be seen a roll of fresh un-cut lino..this is how it starts. In the background the "plate" can be seen after the edition has been printed and the ink removed with turpentine from the surface.
The image is drawn back to front onto the plate and then cut using lino-cutting gouges and in some places a Dremel fitted with a 0.8mm engraving bit.
Above can be seen my lino-cutting tools.
Due to the extreme cold in my studio (there were times when I could see my breath when cutting this plate!) the lino is heated to make it softer and thereby easier to cut. Softening the lino also avoids dulling the edge of the gouges.
Ink is applied to the surface of the plate with a roller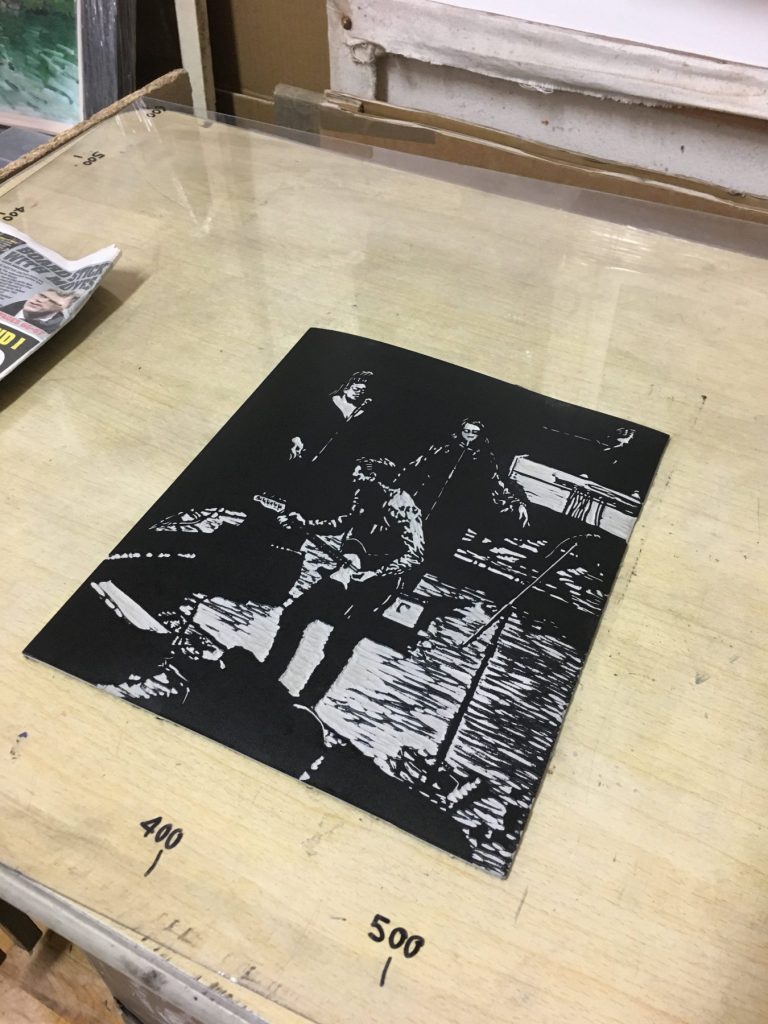 Above is the plate inked up and ready for printing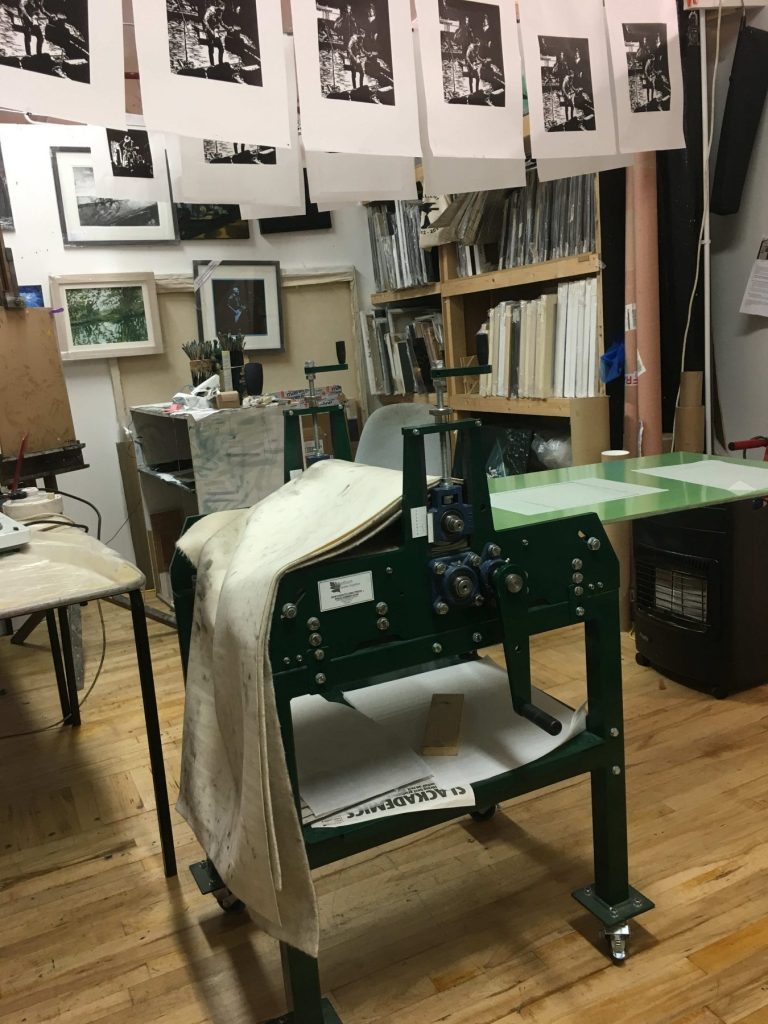 Above is my press and hanging above it can be seen the edition of the Laurence Jones print.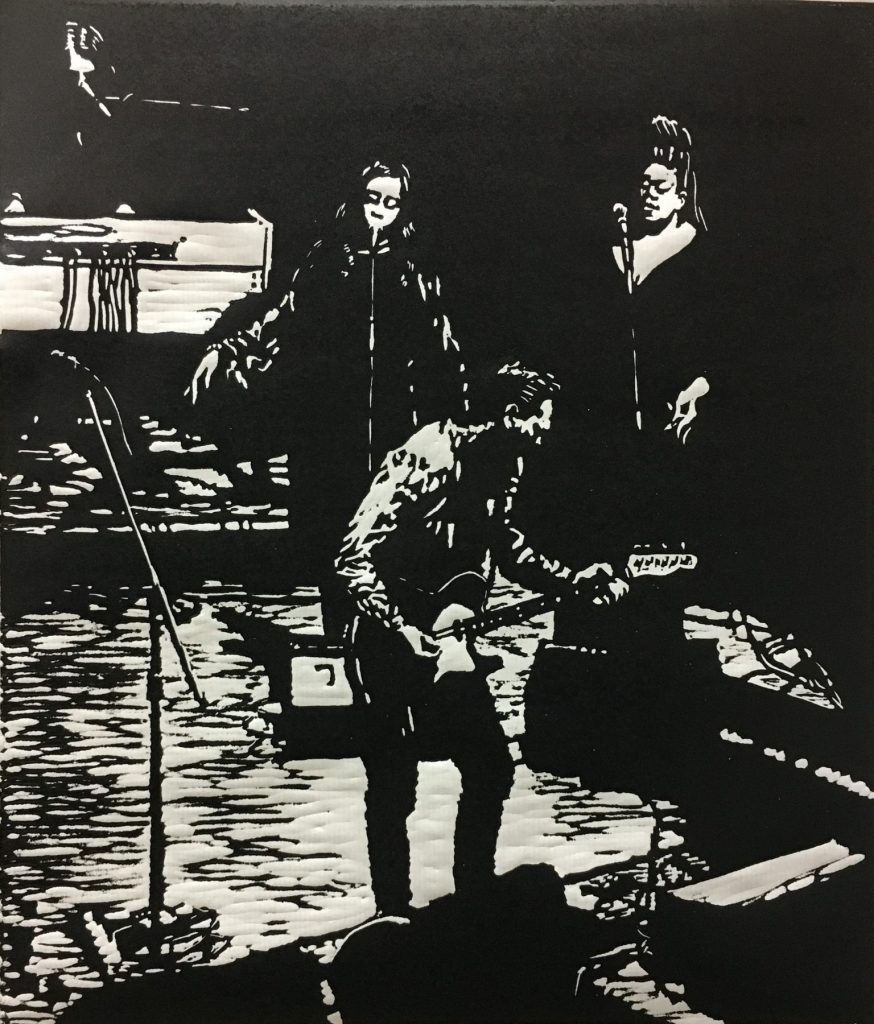 This is a limited edition of only 10 prints measuring 24cm x 28cm and printed onto Sunome Senaka Japanese paper.