En plein air at Bevere, Worcester
I have been exhibiting at Gallery at Bevere, Worcester for a few years now and I am always welcomed with happy, smiling faces and a friendly whilst thoroughly professional attitude. Within a very short time of delivering fresh work I am e-mailed with a link to what will appear on the Gallery's website and once I've checked the images of the work along with details of size and price etc it goes live.
The Gallery is set in a beautiful location and has a great cafe which I can heartily recommend! Sadly, I do not often have time to eat there as often as I would like as I usually try to deliver to additional galleries in Birmingham and Derbyshire on the same day.
If you're around Birmingham, The Malvern Hills, The Cotswolds or just fancy a day out, Gallery at Bevere is well worth a visit…ceramics, painting, printmaking, sculpture and fine food in lovely surroundings….check out the link below:
http://beveregallery.com/artists?artistID=941
There are four new paintings, framed and available at Gallery at Bevere….here is  a photograph of my "office" where I painted one of them. I found a cool, tranquil spot under the canopy of trees gaining protection from the sun. The previous day found me in a different part of the local landscape and on my return home I walked past this path. It was late afternoon and the sun was shining in the wrong direction for what I wanted so I decided to return the following morning. I was blessed with a fine day with bright sunshine illuminating the landscape beyond the gate and cluster of trees that framed the path. To see the finished painting (and three others!) see the link above.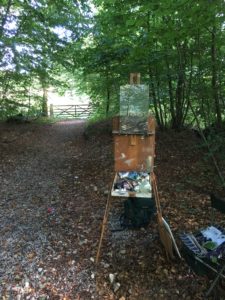 En plein air, oil on board.