Taking Wales to Scotland?
On Tuesday I travelled from Greater Manchester to Scotland delivering artwork to galleries in Cumbria and Newcastle upon Tyne as well as to a client in Newcastle before arriving at Number Four Gallery in St. Abbs, Berwickshire.
The spring sun was shining so strongly that I had spent more than half my journey wearing sun-glasses. It was lovely to be greeted by the friendly faces of Jenny and Chris on arrival at the gallery. What an idyllic place to site a gallery, perched above the coastal village of St. Abbs, the gallery overlooking the rugged cliffs down to the North Sea.
Here are the current selection of works available from Number Four Gallery….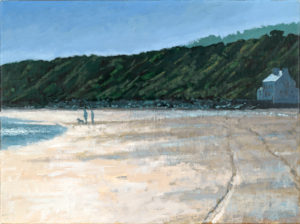 "Early Morning Walk On The Beach". This painting was inspired by the early morning light illuminating a near deserted beach. A couple and their dog walk across the sands, pausing to look towards the sea in a quiet moment of contemplation. Later in the day this Morfa Nefyn beach in Wales will be busy with holiday makers but for now it can be enjoyed for its serenity. So you see I've taken a little bit of North Wales to East Scotland.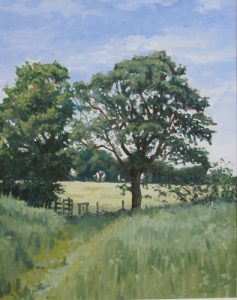 "Bridge To Summer No.1"
Painted en plein air on a beautiful summer's day. I was unable to find shaded protection and throughout the time I worked on this painting the sun warmed me to the core. This en plein air work was done in the landscape to the west of Manchester. Under the shadow of the trees hides a small bridge over which the land opens to a field full of summer sunlight. I liked the slightly wild meadow foreground leading to the bridge and onto the cultivated field beyond.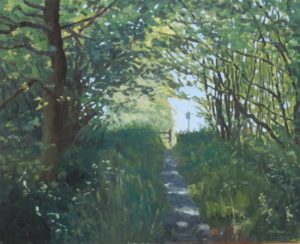 "Path With Hope No.1" Another en plein air work. I found a very shaded path which looked through the shadows towards the bright light where the landscape opened to the fields beyond. The sunlit dappled path seemed to offer an optimism that I found easier to paint than to explain in words.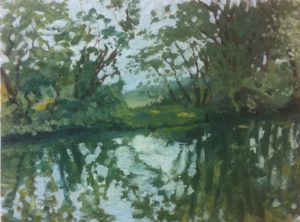 "Summer Reflection" Painted en plein air in a quiet backwater, an area which I find myself returning throughout the seasons. Whilst I am not trying to copy his style I cannot help but "see" Corot paintings whenever I visit this stretch of water.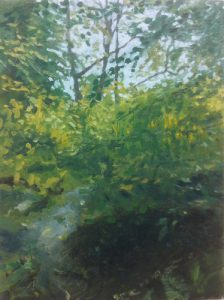 "Secret Path" I struggled through an overgrown path to where I had intended to paint but on arrival I looked back to the path which I had trodden and decided to paint the view. This was a 180 degree turn from my original intended view. I am never too fussed about painting where passers by might frequently walk but I knew that on this occasion I was extremely unlikely to see anyone and so it proved.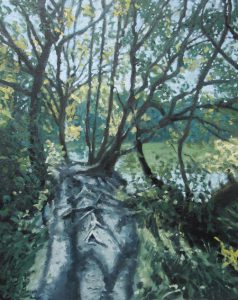 "Water's Edge" The shadows of the water side trees created patterns across a path punctuated with exposed tree roots at the water's edge. This is another place to which I often return but it really could be anywhere in the country…we are blessed with such paths tracing the banks of rivers, lakes and reservoirs in this country.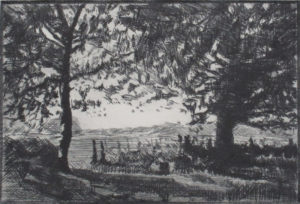 "Gateway To Warm Sunshine" This limited edition (only 10) dry-point was taken from one of my paintings. For some reason I often appear drawn to landscapes where I am looking from the shade into the light and this little study falls into that category.
Please contact Number Four Gallery for further details of these works: http://www.numberfourgallery.co.uk/index.html