Notre Dame 1981
It is many years since I visited Notre Dame in Paris and the only photograph that I have was taken in about 1981.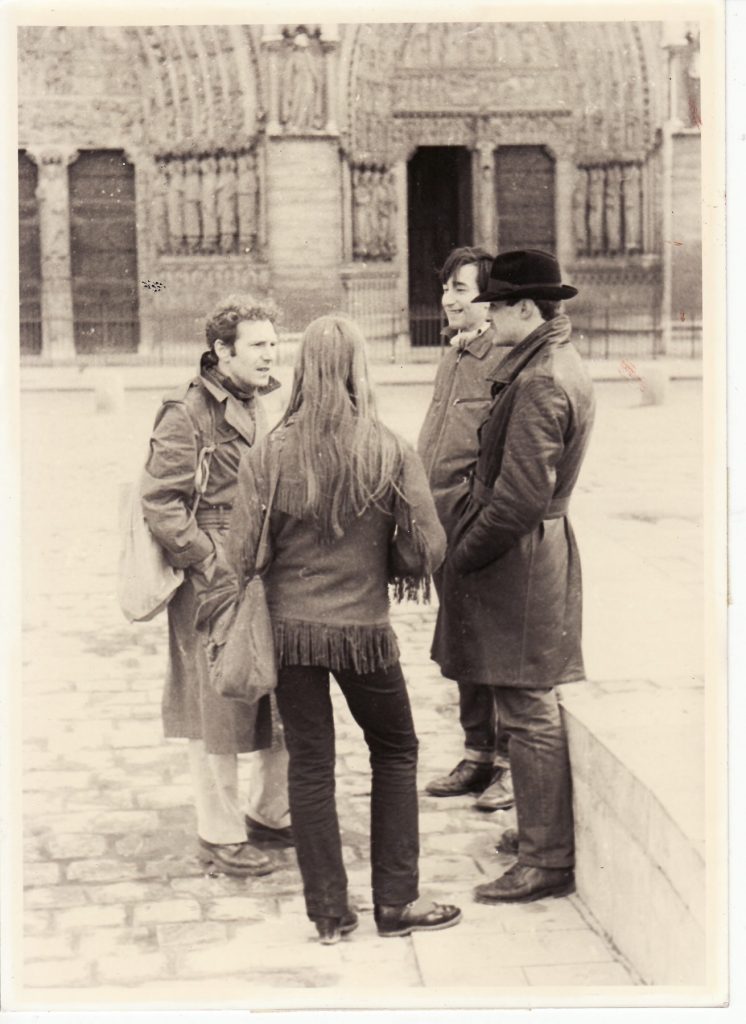 From left to right, Jimi Hynd in the Mackintosh, with her back facing the camera a student from the year above me (her name lost in the passage of time), Mark Wydler and then me in the trilby hat and leather coat.  We were all Fine Art undergraduates at Sheffield Polytechnic, now known as Sheffield Hallam University, and the tutors had organised a trip for the 1st and 2nd year art students to visit Paris. Three of us thought that the cost was far too high so we decided to hitch-hike to Paris and sleep rough, now called wild camping, in Bois de Boulogne. We had sleeping bags and some plastic sheeting but no tent…so it was sleeping rough!
Mark Wydler and I set off together from Sheffield and finally arrived in Calais where we hoped to sleep inside the railway station. We had arranged to meet Colin Robinson, another Fine Art undergraduate, somewhere in Paris, the exact arrangements are lost in time but these were the days before smart 'phones so clearly some sort of planned rendezvous would have been necessary. Just as we were "bedding down" for the night (on two benches) Mark and I were asked to vacate the station because it was closing until the next morning. We wandered around Calais and found a patch of waste ground under some sort of flyover or elevated road structure. We were in our sleeping bags trying to get off to sleep when we were aware of a solitary figure walking slowly towards us. This was moderately alarming as there was nothing on this wasteland under the flyover other than me and Mark. The figure eventually arrived within speaking range and Mark or I rather gingerly said, "Hello" to this mysterious visitor. To our astonishment and enormous relief the figure replied, "Is that Mark and Pete?" Colin had set off from Sheffield some time after Mark and I, he had arrived in Calais and needed somewhere to sleep…he found the exact same spot that we had found!
In the morning we travelled to Paris, met up with students on the organised trip and over the next couple of days we visited galleries and historic places of interest including Notre Dame Cathedral.
My memories of the whole trip are pretty vague to be honest, but there are two things that have stayed with me. Firstly Theodore Gericault's "The Raft of the Medusa" and secondly the almost overwhelming impressiveness of Notre Dame Cathedral. Both of these monuments of French culture and civilization stand for something so I suppose it is not surprising that they remain with me. Yesterday I read Mollie Marriott's eloquent and moving Instagram post and feel that it should be shared as it resonated so powerfully with me:
We live in a time where nothing is sacred anymore. Everything is shared publicly and so easily disposable and we have grown into the mindset of accepting this is the norm.
I sat in tears last night watching the live footage of Notre Dame. A horrifying thought of possibly losing all that history burning away of true power, artefacts, leaders such as De Gaulle and Napoleon, that remarkable architecture and for me, the two most beautiful stained glass windows that would hold me in amazement every time. One created as early as 1250 and its twin who looked on opposite 1260.
I always struggled with the energy in Notre Dame. I always picked up on the heaviness and depression it holds and it would at times cripple me and I'd have to quickly vacate the building, however I always went back to marvel. Whatever your beliefs, you cannot disregard the majestic, powerful presence within that Cathedral.
The silver lining in this is that everyone came together in grief yesterday and remembered the value and how precious such things are.
This morning appears to show some saving grace and that the damage is not as devastating as we all envisioned.
Un miracle incroyable!
Vive La France!
🖤 #Paris #France #notredame #love#vivelafrance
Sentiments beautifully expressed leaving me with no more to add.