Somerset and Lancashire go to Derbyshire
It is always a pleasure to visit Leabrooks Gallery and Monday was no different allowing me to sit and chat over a coffee with Carol and John. Somerset, or an oil on canvas featuring a field in Somerset can now be viewed (and purchased) from Leabrooks Gallery in Derbyshire. This painting very nearly did not make it to canvas for I had waited all week to visit this field in the right lighting conditions. Towards the end of my week's stay in Somerset I drove past this field and saw that the light was just what I had been waiting for. I parked my car at the cottage and returned on foot with my paints. It was early evening and the sun regularly broke through the clouds. This painting, "Evening Hay No.2" is a studio painting from a beautiful evening in rural Somerset.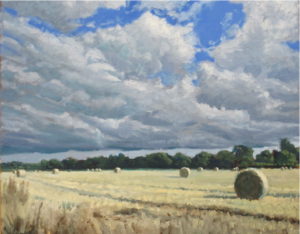 Also available from Leabrooks Gallery is, "When The Sun Warms Your Soul No.2". This is the larger studio painting having already produced a smaller en plein air painting from the corner of this wheat-field. I had cycled past this Lancashire field on a number of occasions and vowed to return to paint it in bright summer sunshine. I was extremely keen to paint it before the crop was harvested and to my delight the day that I visited it with my easel, I found the field to the right had been harvested and the field to left was being harvested whilst I worked. The sun was incredibly intense and its heat seemed to warm not only the body but also the soul. The small en plein air painting sold before it was even dry…this is the larger studio painting.
On Monday I left Carol and John of Leabrooks Gallery with a mono-print and also a mono-print and mixed media study. "Before The Rain No.1" was based on another en plein air session in the Lancashire countryside but this time I was on the banks of the river Ribble. I had already done some sketching but there seemed a strong chance that it would rain and ….it did! When I returned to my studio I produced this mono-print and mixed media on Fabriano paper.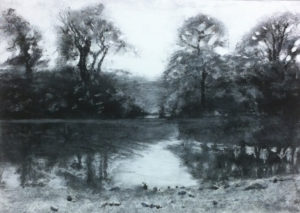 The next work was done near to Samuel Crompton's birth-place in Bolton, Greater Manchester. A track drops down from the cottages of Firwood Fold and descends into the dark. Sunlight punctures the overhead foliage but the track at this point is always dark, even in summer. The view in this mono-print is looking back towards the cottages. The sunlight at the top of the track seemed to burn my eyes….it was that bright.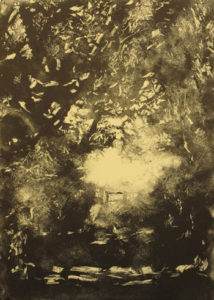 For more details please contact John at Leabrooks Gallery:  http://leabrooksartscomplex.com/contact/