The Red Devils….are back in town!
I bought my ticket for ZZ Top after a friend had reminded me that tickets were on sale…phew, I got one! Off I went to Manchester Apollo without any idea who the support band might be. I arrived early(ish) but not early enough to sketch at the sound-check. I surveyed the stage and decided to take a fairly central position a little way from the front and stage side of the sound-desk. I wanted a face-on position for the potential paintings from this gig.
The Red Devils took the stage to provide a great set of no nonsense Blues-Rock and I knew instantly that there would be a painting from this gig. I've been working more intensely on this painting recently having started it by simply "blocking it in" some time ago and although it remains unfinished, here it is: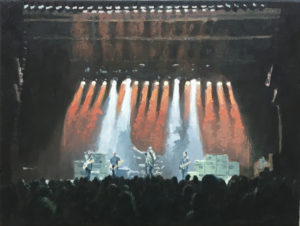 I will post updates on the progress of this oil on canvas as it develops….watch this space folks!
UPDATE! 11th October 2017….it is finished. I've worked on this 40.5cm by 30.5cm canvas over the last three days having started it a while ago and I'm pretty sure it is finished. I hope this painting does The Red Devils justice.