Black Sabbath, Pearl Jam and Slash in Saddleworth near Oldham?
This morning I delivered four paintings inspired by live performances at Manchester Arena by Black Sabbath, Slash and Pearl Jam. The Millyard Gallery in Uppermill, Saddleworth will be exhibiting these original paintings and will also be offering limited edition Giclee prints of all four paintings.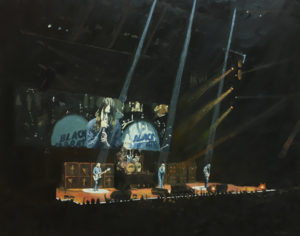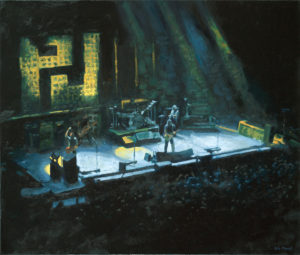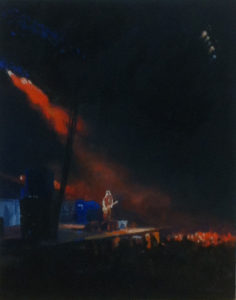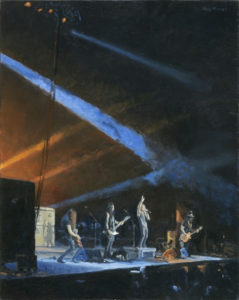 Here's a copy of the information presented by Millyard Gallery:
Pete Marsh
"Artist-in-Residence" The Great British Rhythm & Blues Festival, Colne 2017
"Artist-in-Residence" The Great British Rhythm & Blues Festival, Colne 2018
"Artist-in-Residence" Megeve Blues Festival, France 2018
Artist's statement:
During the mid-1980's Pete was a member of the stage crew at The International Club, Manchester and subsequently at Manchester Apollo. This involved working at various venues including Birmingham NEC, St. George's Hall Bradford, Preston Guildhall, Sheffield City Hall, Monsters of Rock (now known as "Download"), Roundhey Park, Leeds and various stadium shows. This interest in music can be seen in his artwork where he is less concerned with topographical detail but much more interested in the overall dynamic, mood and atmosphere of live performance. Whenever possible Pete prefers to work from life and will sketch members of a band during the sound-check. Paintings will be developed based on sketches from life, digital manipulation of photographs taken during the gig and carefully observed memories of both the sound-check and the live stage performance. Pete only paints concerts which he has attended, feeling that the first-hand experience of the atmosphere is crucial to his work.
Selected biography:
2017 Artist-in-Residence, Colne Blues Festival, Lancashire.
2016 "Night and Day" Solo exhibition, The Market Place, Bolton.
2015 Public Art commission for Bolton Council and Bolton at Home, A666 subway.
2015 Art Of Progress/Human Nature Art Show, 19 Greek Street Gallery, Soho, London
2014 Hebden Bridge Blues Festival Exhibition, The Town Hall, Hebden Bridge, West Yorkshire.
2013 "The Art of Printmaking", The Cooper Gallery, Barnsley, South Yorkshire.
2012 "Encompass", Falcon Mill, Bolton, Gtr. Manchester.
2011 "The Great North Art Show", Ripon Cathedral, North Yorkshire.
2011 Printfest 2011, Coronation Hall,  Ulverston, Cumbria
2010 Lynn Painters-Stainers Prize Exhibition, London.
1986 The Colin Jellicoe Gallery, Manchester, Prints and Paintings.
1984 Ikon Gallery, Birmingham, Midland View 3 Touring Exhibition.
1983 City Museum of Fine Art, Taipei, Taiwan, International Print Exhibition.
1982 The Royal Academy, London, The Stowells Awards.
1979-82 B.A. (Hons.) Fine Art, Sheffield Polytechnic.
1978-79 Foundation Course, Bournville School of Art and Design, Birmingham.