Janiva Magness and Paula Rego
26th February 2018: UPDATE-Late this afternoon the Janiva Magness inspired oil on canvas was completed. Here is a close up detail from the finished canvas:
Please see below for the final painting: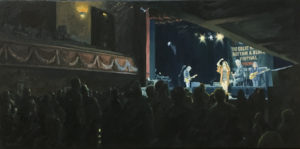 Full details of this work can be found at the following link:
https://petemarshart.co.uk/painting/janiva-magness-tgbrbf-17/
20th February 2018: My "Artist-in-Residence" at The Great British Rhythm & Blues Festival in Colne 2017 provided me with an extremely busy weekend last August. I spent my time sketching rapidly using my preferred Bic ball-point pen and spiral bound sketchbooks. It is so important to me to sketch the musicians live as they perform. I seem to say the following quite a lot but it rings true for me so here we go again, when you draw from life, you have to really look and when you really look, you really see. There! I've said it again! This morning I read an article in The Guardian (see link at the foot of this blog) in which Paula Rego was quoted, "You learn so much drawing from life. You have to look so carefully. It's very difficult to actually see what's there. The more you do it, the better you get at looking, and that's a discipline that's important however you want to work." For some artists drawing from life is not important but I'm pleased to see such an influential artist as Paula Rego paying testimony to the importance of drawing from life.
Here's a page from my Colne Blues sketchbook:
Since August 2017 I have been extremely busy using my sketchbook to produce a series of trace mono-prints and also producing a series of oil paintings in which I have used my sketches and my photographs as reference material. This afternoon I moved the painting "Janiva Magness @ TGBR&BF '17" towards completion. I have some areas that I want to address but the painting is taking shape. Here it is UNFINISHED oil on canvas: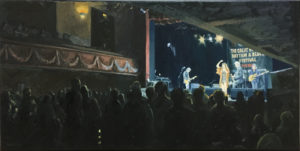 https://www.theguardian.com/artanddesign/2018/feb/20/paula-rego-painting-all-too-human-tate-britain-germaine-greer