Chuck DeFlorio Cancer Fundraiser
This sketch was produced last night at Mamasan Japanese Restaurant in between courses. We were taken to the restaurant by our son, Jack, his girlfriend Teresa and Teresa's sister Fran to celebrate my wife's birthday. We enjoyed great food, superb music from a terrific Jazz combo and we were escorted part of the way home by a beautiful white cat!
A client, Dean, in America approached me for a donation to an auction in support of:
CHUCK DEFLORIO'S BEAT HIS CANCER FUNDRAISER JANUARY 20TH.
https://www.facebook.com/events/1067352970111127/
The problem was that I am a long way from my studio in England for I am visiting my son in Australia and I return to the UK too late to send anything to the States in time for the charity auction! Dean and I agreed that I should do some live sketching in Australia and send it over to the States in time for the auction. Given Chuck DeFlorio's work in the music industry we agreed on a page from my sketchbook. Dean and I felt a sketch inspired by live music is an appropriate item to auction for Chuck.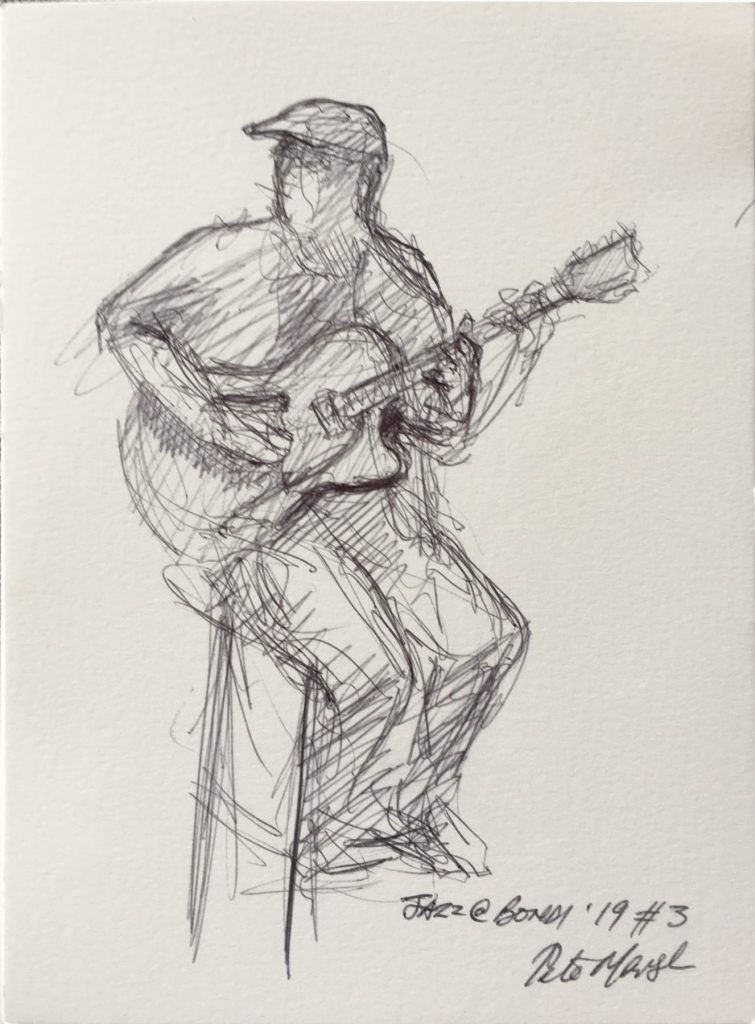 Mamsan Japanese Restaurant provided the opportunity for me to sketch and I managed to quickly sketch the guitarist before the band finished their set…but only just! Sketching rapidly between courses I managed to capture a quick impression of a band member for Chuck. Chuck has owned nightclubs in the past where he hired many, many bands. Sadly he has developed throat cancer and friends are trying to raise funds to help with medical bills…..check out the link to the Facebook page and put in a bid to own an original artwork and to help raise funds for a worthy cause! Make a difference….HAPPY BIDDING!