Download, Soundgarden and a better work/life balance
A friend visited me at the studio this week. We had not been in touch for a while as we are both self-employed and our busy lives have got in the way of many things. During our chat I asked after his daughter and he told me that she is now 8 years old. It did not really strike me that 8 years is a long time but I have just been uploading a more accurate photograph of a lino cut that I did inspired by a band/festival. It seems like only yesterday but then again it also seems like a life-time ago but it was in fact 7 years ago that the same friend, Andy, and I went to Download, principally to see Soundgarden. A few weeks later Andy, my wife Mel and I went to see Chris Cornell at The Lowry Theatre for his Songbook Tour. Obviously none of us knew then that there would be tragic news about Chris Cornell's death. I wish I could see Chris again and again but I will just have to count my blessings that I did see him perform live. Andy and I touched upon the need for us to gain a better work/life balance and that we must make opportunities to enjoy life. In light of this we have decided that we should dust down our bikes, turn the cranks and ease our complaining bodies into action..until then here is a more accurate reproduction of "Worshippers At The Temple Of Rock (Version 2)" a limited edition of only 10…in many ways it represents a wonderful time spent at Download listening to and watching incredibly talented people making the most of their opportunities to enjoy life. Andy and I certainly enjoyed it.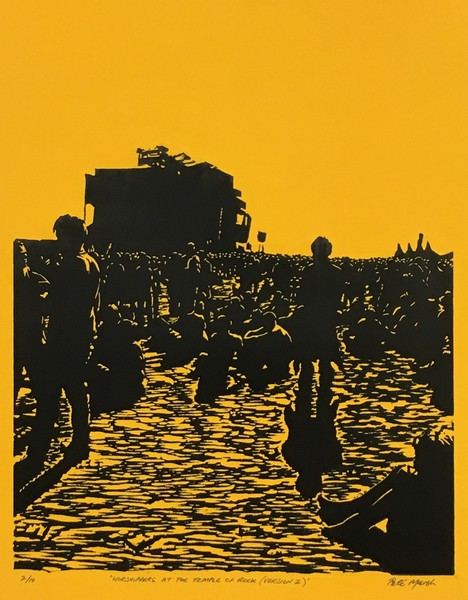 Inspired by Soundgarden at Download 2012.