I am exhibiting at the Colne Blues Festival!
I am extremely pleased to announce that later this month I will be setting up six easels to show twelve paintings and at least two browsers for displaying prints at The Muni Theatre in Colne as part of the 30 year anniversary of The Great British Rhythm and Blues Festival. I was "Artist-in-Residence" at the 2017 and 2018 festivals and I have been invited back not only in the same role for the 2019 festival but also to exhibit work inspired by my role as Artist-in-Residence.
I will have an area toward the back of the Muni for the duration of the festival where I will be showing paintings, original prints (trace monoprints and lino-cuts) and my sketchbooks. The sketchbooks form a vital part of my work as I work furiously to draw the musicians performing on stage. These sketches have to be done very quickly but they prove to be an invaluable resource to my studio based painting and printmaking. I know I've said it before but…when you draw you have to really look and when you really look, you really see. For the "live" sketches I work exclusively on spiral bound sketchbooks using Bic ball-point pen…it is immediate and allows a variety of tonal control of the line.
In addition to the sketches I take hundreds of photographs and commit all sorts of information to memory as well. I only paint gigs that I have attended as I feel that it is crucial to have first hand experience of the atmosphere. Whilst topographical detail remains subordinate to trying to express the atmosphere of the performance, if someone is playing a Strat, I cannot have it looking like a Les Paul, but I will regularly "move" people and equipment in order to make the painting work. What happens in real life does not always make for a work of art. Musicians, mic stands, speakers etc are moved around to improve the composition.
Painting and printmaking featuring the following will be on show: Backwater Roll Blues Band, Elles Bailey, Laurence Jones, Xander And The Peace Pirates, Ten Years After, Mike Vernon And The Mighty Combo, John Fairhurst, King King, Gwyn Ashton, Janiva Magness, Charlotte Marshall And The 45s, Lisa Mann, Lisa Mills, Trevor Babjack Steger, Kaz Hawkins Band, Connie Lush, Jo Harmen, Catfish, Yoka And The Sugarbeats, Slack Alice, Gerry Jablonski, Katie Bradley, Crosscut Saw, Troy Redfern, Alex Mckown Band, John Fairhurst, Tom Attah, Lachy Doley and Ian Siegal.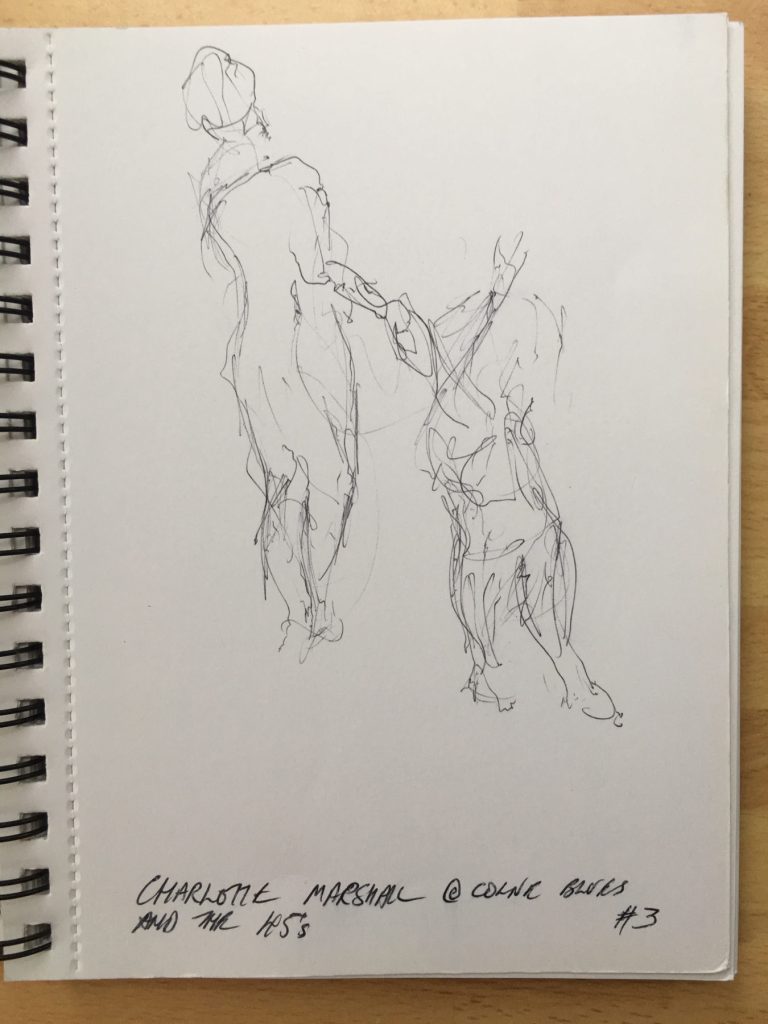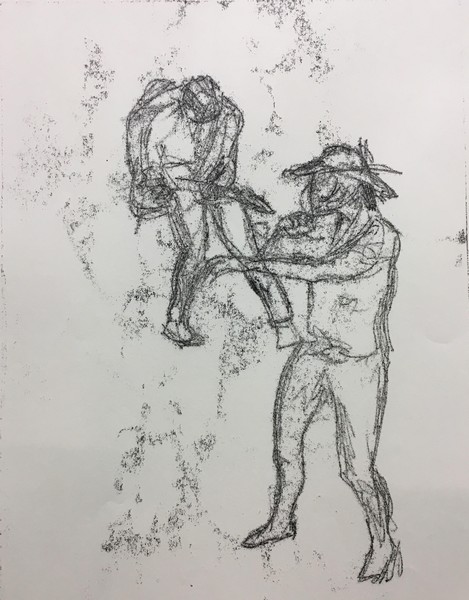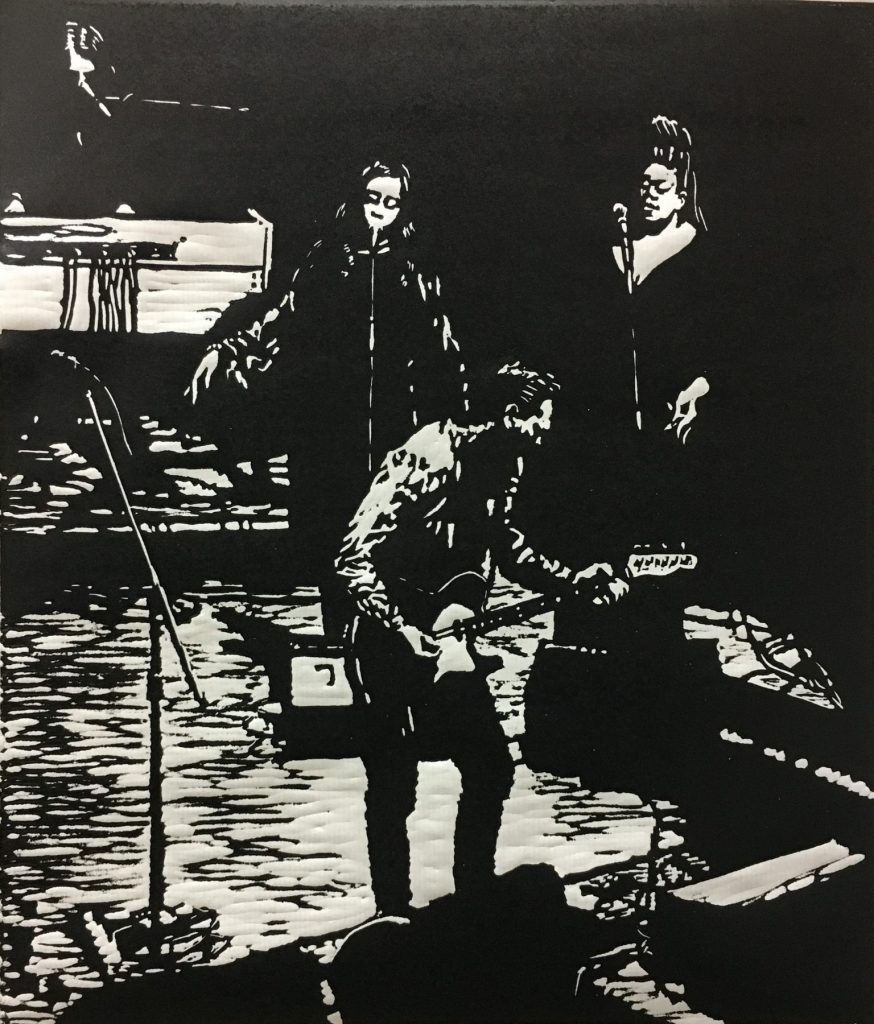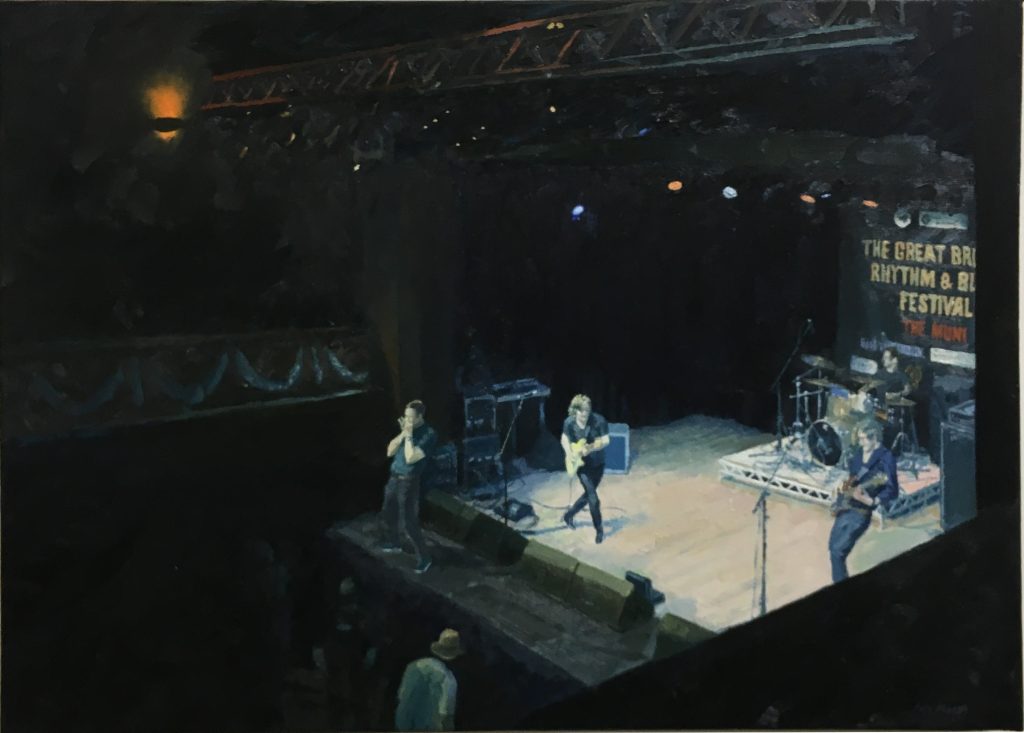 Come along and say "Hi"…preferably during a band change-over..out of respect for the performers on stage 😉