When you can't be bothered with a night out
Do you know that feeling when you've arranged to go out but on the day of the event you just do not want to go?
For some time I'd been looking forward to seeing Laurence Jones supporting Kenny Wayne Shepherd on Wednesday night at The Ritz. On Monday and Tuesday of this week I had been helping to lay concrete slabs and concreting a path in my back garden. Old sports injuries, particularly my mountain bike crash induced reconstructed shoulders, were "complaining". I ached everywhere! I told my wife that I never thought I'd hear myself say these words but, "I'm too old for this!" I had arranged to sketch Laurence Jones at O2 Manchester Ritz  on Wednesday…this would entail meeting Laurence around 4-4.30pm. I knew that from around this time in the afternoon I would be stood up sketching followed by finding my vantage point for the gig and holding that vantage point until the end of the gig. This would mean standing from about 4-00pm till 10.00 or 11.00pm….and I'd already been on my feet all morning at my studio. My tired and aching body was telling, no, pleading with, me to go home and vegetate in front of mindless T.V. before scaling the staircase to sink into a deep and early slumber. "Go home!" my mind and body cried. "Go to the gig!" my heart retorted.
Well, the heart won. On arrival at The Ritz my body's complaints were mere whispers as I was already excited about sketching these superb musicians at the sound-check. It was lovely to chat again with Bennett Holland (keys) and Greg Smith (bass) from Laurence's band and later speak with Phil (drums) and Mel (Laurence's father).
Imagine my surprise when Greg Smith shouted from the stage that he had just tagged me on Facebook..I checked my mobile 'phone and found this photograph of me sketching him! I love this photo of Greg's! Well this was my office on Wednesday afternoon and evening. (Please see below).
It wasn't long before I was sketching Kenny Wayne Shepherd and it was good to have a few brief words with him and Noah Hunt (vocals) before they met the VIP ticket holders. Later on I bumped into Andrew Elt (the tour manager with an astonishing rock voice) again and it was good to have a chat before Andrew had to get back to work. Next up on stage was Laurence Jones and I was ready to capture the guys during their sound-check…but there was a surprise awaiting me.
Last night was one of those special nights where the support band set the place on fire and the headlining act come on to poor petrol on the flames! This was The Blues, this was Rock! But it wasn't all thunder and lightening from these two bands, for there was light and shade in both sets. At the end of the gig, my body rediscovered its voice and complained again…but during the interim period I'd had a great afternoon and evening. Big thanks to everyone associated with Kenny Wayne Shepherd and Laurence Jones for a terrific night. Big thanks to the staff at the Ritz for their hospitality too…everyone concerned made my job so much easier…and I'm very hopeful that there will be new works generated from this gig. Here are the sketches…done live…therefore done very quickly while the subjects move around the stage.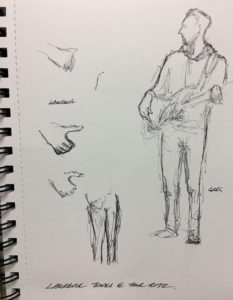 Up until yesterday, I last saw Kenny Wayne Shepherd at Manchester Academy when Laurence Jones supported. No paintings of Laurence Jones were created from his set but I produced two paintings and a lino-cut from Kenny's set….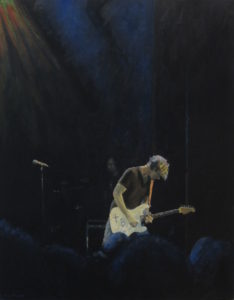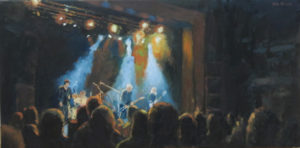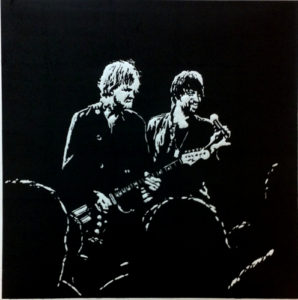 Happily I've seen Laurence Jones since the Academy gig where the lighting was more to my liking and I've produced three paintings….all these works are on my website.