Wishbone Ash is getting closer!
Here is my UNFINISHED oil on canvas featuring Wishbone Ash at AshCon 2017. I posted this UNFINISHED painting on Facebook, Twitter and Instagram a couple of weeks ago….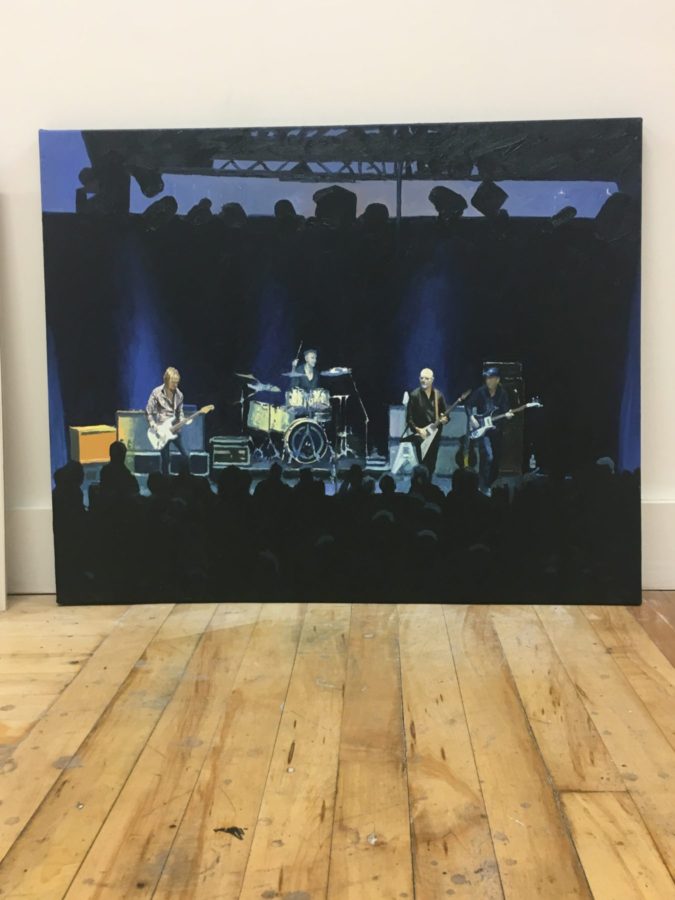 I have been refining and developing this painting over a number of weeks but it is STILL not finished. Lots of other things have been taking up my time…including two separate visits from relatives now living in Australia, deliveries of fresh work to galleries..in England and Scotland, helping with the construction of a new external staircase to the FaMAS Art Gallery and Studios and the acquisition of two new road-bikes…well, one really has to ensure a sound work-life balance doesn't one? 😉  Some of my mountain bike friends will question my "balance" when it comes to mountain biking….the two surgeons who have reconstructed both of my shoulders may also have some questions! Anyway, more to the point Wishbone Ash at AshCon 2017 is nearing completion…nearing but not quite yet there.
Here it is at close of business at my studio today: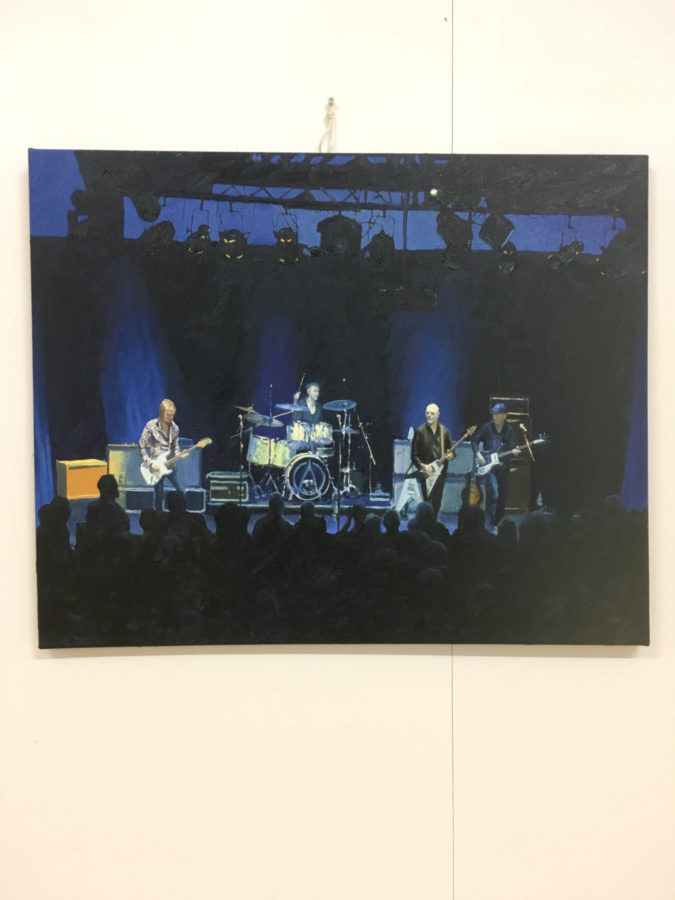 There's still work that needs doing to Andy, Joe, Bob and Mark along with working on the overall atmosphere but it is beginning to develop into something that expresses what I felt about that evening. Speaking of that evening, I was very privileged to be (1) given permission to sketch the band by Andy Powell and (2) allowed to have access to the lighting desk balcony at the back of the venue. The very kind folk at Clitheroe's The Grand Venue gave me free reign to sketch and photograph the band from a superb elevated position at the back of the concert room. There's lots that I could write about the structure in the composition e.g. why the musicians are placed in precisely these positions, why I have used the chosen poses, how I came to select the lighting or what is omitted or added for artistic effect but all these things are really only of concern to me. Dissecting something to put under a micro-scope can provide valuable information but it rarely provides the "spirit" of the subject. Sometimes I prefer to say little about a work and just let it speak for itself. When this "long termer" is finished I'll post for all to see.