You just never know….
My wife, Mel, met for lunch yesterday with friends from many years ago. They were special friends but somehow time and family life resulted in contact by Christmas card and little else for between 25 and 30 years! It was lovely to see Mel so happy having been reacquainted with her old friends…as in friends from old, not, I hasten to make clear, elderly friends! One of them remarked that they still had my work on their "art-wall"…work that I had completely forgotten about and I certainly did not remember that they had some pieces of mine. These have been on the wall of her home for 25-30 years!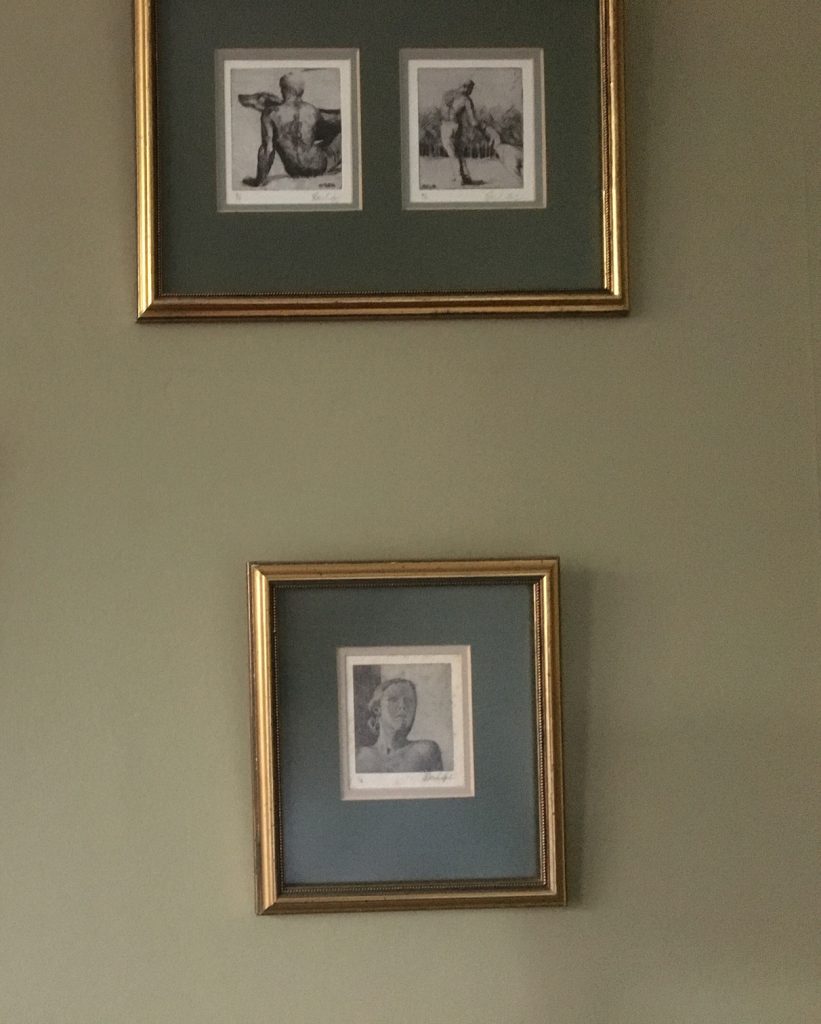 Three "dry-points" from the early 1980's.
These dry-points featuring a young tattooed man with his dog are inspired by a visit to the Lickey Hills north west of Birmingham. I was sketching near Rose Hill on a summer's day when a man who was stripped to the waist walked by with his dog. I prefer not to over analyze why certain things end up in my work but there was something about this athletic and tattooed young man and his tender relationship with his dog that prompted me to produce these two very small dry-points. They were produced from memory onto thin aluminium sheet. A very small limited edition of 6 was printed on Bockingford water-colour paper. I am fairly confident that I based the poses on figures found in the work of Titian, Tintoretto and/or Veronese. So these little dry-points are the combination of memory and an influence from Renaissance masters from Venice.
The above dry-point is from a limited edition of only two. It was produced some time between 1979 and 1982 during my under-graduate days at Sheffield. I think this was also done on thin aluminium sheet and was definitely done from life in the life drawing room at Psalter Lane. I think the model was German.
I had no idea that these three works were with Mel's old friend for I had forgotten what had happened to them. I find it both humbling and encouraging that they have being enjoyed for between 25 to 30 years!