Sari Schorr, Robert J.Hunter, Slash, ZZ Top, Alter Bridge, Chris Cornell….
Earlier this year I was prevented from attended a Corn Market Blues event due to snow….the M62 had been closed for 8 hours and the emergency services advised people not to travel….damn! This meant that I missed Chantel McGregor at Raven Hall, Corby. Well, talk about polar opposites….I travelled to Corby in glorious sunshine on Saturday to set up my exhibition at the Sari Schorr/Robert J. Hunter gig at Corn Market Blues. The last time I was at a Corn Market Blues event was last year for the Laurence Jones charity gig in aid of Crohns and Colitis U.K.
I arrived in good time to set up my micro-exhibition in time to sketch the sound-check. In the photograph below there are original limited edition prints featuring, Laurence Jones (dry-point), Chris Cornell (etching), Slash (lino-cut), Tammy (etching), Alter Bridge (etching) and Chameleons Vox (etching).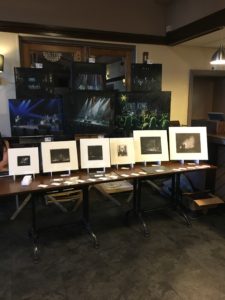 The paintings feature Chantel McGregor, Walter Trout, Laurence Jones, ZZ Top, King King and Broken Witt Rebels
I had a another great night at Corn Market Blues….first and foremost because of the performance of the two bands, Robert J. Hunter (support act) and Sari Schorr (headline act). Music, like most good things in life is better when it's live…and these guys are ALIVE! If you like Blues, Blues-Rock you really must see these bands live…you will not be disappointed!
Secondly, the response of the music fans to my exhibition was enormously encouraging. One huge difference between a visual artist and a music artist is that visual artists rarely get the chance to engage with an audience. I work in almost complete isolation…this is the nature of my work…even when it is finished and hung in a gallery it is rare that I ever meet the people that enjoy or buy my work. I only paint gigs that I've attended…I have to have experienced the atmosphere first hand and one can only hope that the atmosphere is expressed in the work….but one rarely ever knows. Fortunately there were numerous members of the audience on Saturday night who were kind enough to make generous comments about my work and it was so encouraging to discover that people "get" what I am doing.
Darwing at the sound-check…..
"When you draw, you really look and when you really look, you really see."….there I've said it again! (Is it strange to quote oneself?). Drawing is important to my work…but I am not saying it should be important to all artists…it's just that it is important to me. To be allowed access to the sound-check to sketch is such a privilege. I like to work from life whenever I can and even though sketching musicians on the move necessitates very rapid sketching one does "see" so clearly. Nuances of movement, posture, articulation of the body and of course little idiosyncrasies that help to characterize all of us are often found when one has to really look very, very quickly…this method of working makes one very efficient in seeing what is important. I am of course hugely indebted to the members of the band and Dave and Richard from Corn Market Blues for permitting me this opportunity. Below are all the rapid-fire sketches from the Sari Schorr sound-check.
Some of you will recognise Bob Fridzema in these sketches…he also appears in the painting "March Of The Blues" which was exhibited at the gig.
I was disappointed that I was unable to sketch Robert J. Hunter during his band's sound-check but a man (and his wife) or a woman (and her husband) has to eat! My wife had accompanied me on this trip to Corby…we'd been travelling for around 3 1/2 hours, I'd around an hour setting up my exhibition and Mel and I were going to be talking to Sari Schorr/Robert J. Hunter fans about my work and of course watching the show…we needed to eat. Happily I was able to find a wall light under which to sketch Robert J.Hunter during his set. I hope to catch up with this band again later in the year when I'll be "Artist-in-Residence" at The Great British Rhythm and Blues Festival 2018 in Colne.